Big 5 Global Construction Exhibition kicks off
Date: Dec 4, 2023
The annual Big 5 Global Construction Exhibition has officially been opened at Dubia World Trade Center in the United Arab Emirates.
Ethiopian Construction Works Corporation is among the thousands of exhibitors in this annual hub for the global construction industry which attracts attendees from more than 150 countries.
By being an exhibitor, the corporation has found the event very relevant for showcasing and forging partnership in the industry.
This year's Big 5 Global Construction Exhibition lasts for the next four consecutive days.
Big 5 Global Construction Exhibition is believed to be the largest and most influential event for the construction industry.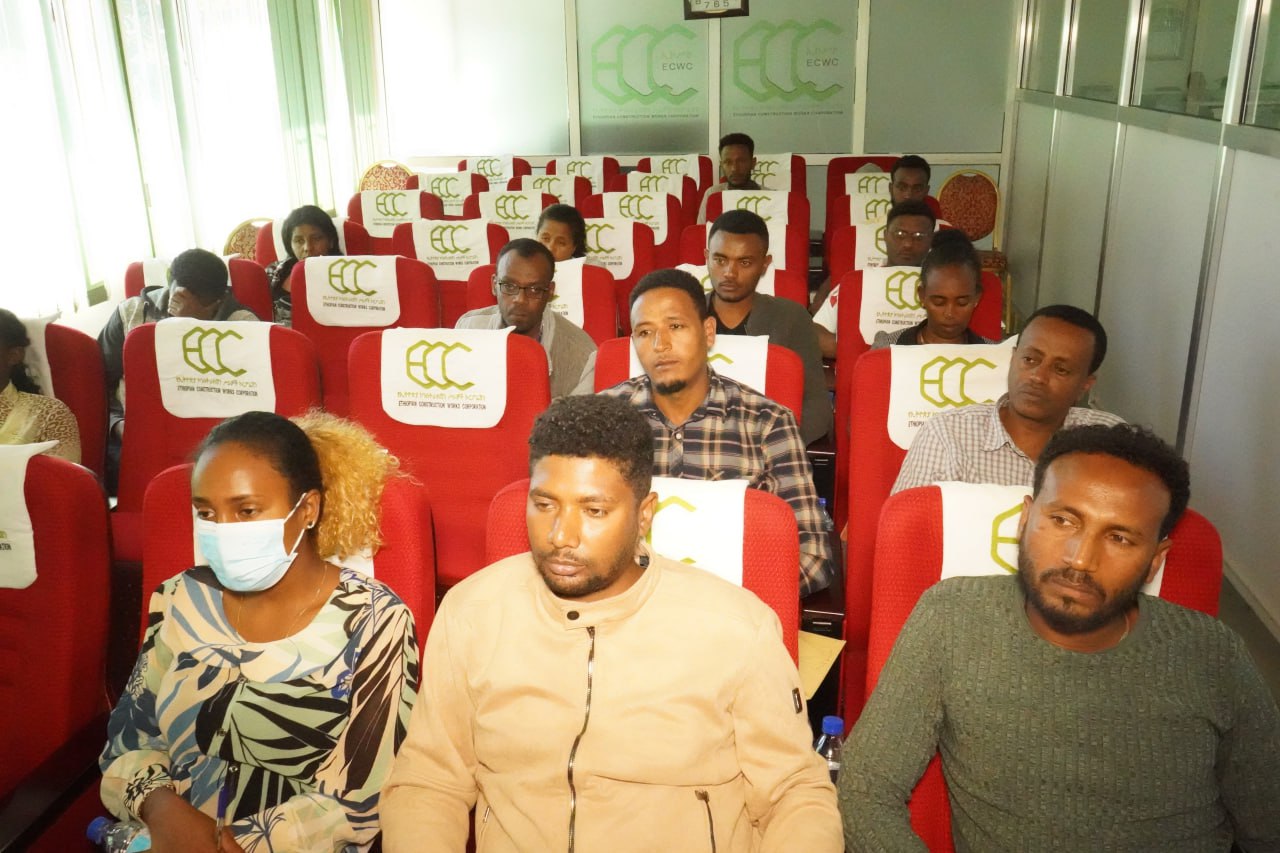 Corporation provides trainings on three distinct management systems
Date: Nov 27, 2023
Ethiopian Construction Works Corporation (ECC) has provided a series of trainings to employees on internationally recognized management systems in order to implement the systems in the years ahead.
While opening training on Risk Management System, Chief of Staff with the rank of DCEO of the Corporation, Amentie Dadi said the corporation has been implementing a series of reform programs and an integrated management system with a view to boost the product and productivity of the corporation.
The corporation has already been certified for implementing Quality Management System (ISO: 9001/2015), Environmental Management System (ISO: 14001/2015) and Occupational Health and Safety Management System (ISO: 45001/2018), the head said.
Amentie said a series of preparations are underway to implement four additional management systems that are risk management system, laboratory management system, business continuity management system and anti-bribery management systems during the current fiscal year.
Organizational development department manager with the corporation, Samuel Amare said the corporation has so far provided trainings on Risk management System (ISO: 31001), on Laboratory Management System (ISO: 17025), and on Business Continuity Management System (ISO: 22301).
The corporation will also provide training to pertinent employees on Anti-Bribery Management System (ISO: 37001), he said adding the corporation envisages implementing the aforementioned systems and receive certificates on all of the systems.
Samuel said the risk management system guideline will enable the corporation identify, analyse, and evaluate possible risks in its operations, the laboratory management system guideline assists the firm to issue credible lab results, while the business continuity management system guideline allows the organization run its business activities smoothly and in a resilient manner.
The trainings that occurred on the premise of the headquarters of the corporation between 20 and 24 November 2023 attracted more than 70 trainees drawn from the various departments of the corporation, it was noted.
Project Managers Take Enterprise Resource Planning Training
Date: Nov 23, 2023
To enhance the effectiveness of Enterprise Resource Planning implementation and speed up the institutional change, Ethiopian Construction Works Corporation gives training for project managers who are working around Addis Ababa; as department manager of information communication technology stated.
Department manager, Mr. Isaias Andarge told that, projects have lots of resources and have responsibility to purchase, hire, and make payments; therefore, trained project managers to understand Enterprise Resource Planning and fully implement is vital.
Finally, Mr. Isaias urged all project managers to implement Enterprise Resource Planning and enforced their workers to use the system fully and pay attention for information quality during implementation.
Ethiopian Construction Works Corporation Launches Comprehensive Project Managers Training Program
Date: Nov 23, 2023
In a landmark event, the Ethiopian Construction Works Corporation unveiled its ambitious future project managers training program, marked by a compelling address from the Corporation's Chief Executive Officer (CEO), Engineer Yonas Ayalew. The CEO underscored the imperative for trainee project managers to possess both the requisite ability and discipline to execute their responsibilities with precision.
Addressing the gathering, CEO Engineer Yonas Ayalew articulated the corporation's strategic vision, citing the need for the production of project managers endowed with qualities such as confidentiality, discipline, responsibility, full qualification, professionalism, and problem-solving acumen. Engineer Yonas Ayalew emphasized that this initiative is integral to the corporation's plans for market expansion and heightened competitiveness.
Furthermore, Engineer Yonas Ayalew revealed the corporation's commitment to augmenting organizational capacity by nurturing a trainee of future project managers through diverse training approaches aimed at expediting the typically lengthy process of producing qualified professionals. Expressing confidence, he stated, "I strongly believe that the trainee project managers present today will capitalize on this opportunity, evolving into fully-fledged project managers within a span of six years. The Corporation stands ready to provide unwavering support, ensuring the success of the training programs."
Dr. Argaw Asha, Executive Officer of the Ethiopia Construction Works Corporation Construction Professionals Development Institute, provided insights into the training regimen. He disclosed that trainee project managers would undergo a comprehensive six-month program, with a curriculum comprising 30 percent theory and 70 percent practical training. Dr. Argaw highlighted the hands-on approach by detailing a four-day visit to various corporation projects, exposing trainees to project management procedures, and key activities such as prefabricated building production, building information modeling, and the situation room. Urging attentiveness, he emphasized that the site visits are an integral component of the training process.
The launch event concluded with a collective call to action, urging trainees to actively engage in the training sessions, demonstrating commitment, and striving diligently to achieve their intended objectives. The Ethiopian Construction Works Corporation's initiative signals a significant step towards cultivating a trainee of adept project managers poised to contribute to the corporation's continued growth and success.
Corporation launches training institute, digital technology centre
Date: Nov 23, 2023
Ethiopian Construction Works Corporation (ECWC) launched on 11 Nov. 2023 a training institute, Construction Professionals' Development Institute, and a digital technology centre, Construction Projects Management Centre.
The newly inaugurated institutions will enable the corporation to create highly-skilled construction professionals and to monitor and follow up on-going construction projects from the centre.
The institutions, constructed in Akaki kality Sub-city of the Addis Ababa City Administration, will play key role in executing construction projects as per the desired quality, allotted time and reasonable cost.
Speaking at the inaugural ceremony, Corporation Board Chairperson, Honourable Eng. Aisha Mohamed, who is also Minister of Irrigation and Low-lands, said the new institutions will enable the corporation become more competitive in the construction sector.
The program attracted Speaker of the House of Peoples' Representatives, Honourable Tagesse Chafo, Defence Minister, H.E Dr. Abrham Belay, Labour and Skills Development Minister H.E Muferiat Kamil, Embassy representatives and other invited guests.
Ethiopian Construction Works Corporation (ECWC), a state-owned development enterprise, is currently undertaking 67 construction projects across the nation at a combined cost of over 55.7 billion ETB, it was noted.
Project set to complete right of way-free section this year
Date: Nov 23, 2023
Yeka Tafo Lot 2 Road Construction Project said utmost efforts have been exerted to complete the 'right of way-free section' of the project until the end of the current Ethiopian fiscal year.
Project manager, Engineer Abyot Sisay said the project, which is underway by the Ethiopian Construction works Corporation (ECWC) at a cost of over 700 million ETB, is severely hampered by right of way related problems.
Eng. Abyot told communication experts, who visited the project site on 31 Oct. 2023, that 5.5 km of the 10.95 km asphalt and cobblestone road construction project could not be accelerated due to the stated cause.
Project has secured 104 million ETB in advance payments and collected over 140 million ETB from the execution of the project so far, he said, only 27 per cent of the project has been completed so far due to obstructions related to right of way.
Some 5.45km of the asphalt and cobblestone roads of the project, which accounts 50 per cent of the entire project, could not be commenced so far due to problems related to right of way.
Work execution team leader with the project, Eng. Biruk Shitaye said the project included construction of 3.99 km asphalt road, 6.69 km cobblestone road, two box-culverts, retaining walls and drainage infrastructures.
The project comprises 71 permanent and contract workers at present and executed about 78 per cent of the right of way free section of the project, according to the team leader.